While implementing a healthy diet and regular exercise are essential for our health, natural dietary supplements that provide the necessary nutrients for the body and its proper function might be equally beneficial.
The market has an abundance of health supplements, but not all of them provide the same results and are natural or safe to consume for a longer time.
In this post, you will learn about Plexus MegaX, a plant-based dietary supplement, and in detail, find out about its effects.
About Plexus MegaX
Plexus MegaX is a plant-based dietary supplement from the renowned supplement company known as Plexus. The company focuses on science and is committed to producing high-quality products.
Their products might help users lose excess weight and feel, eat, focus, and look better, which will result in a healthy lifestyle.
What Is Plexus MegaX Used For?
MegaX is a full-spectrum blend that is made with Omega oils. It contains Omega fatty acids that people don't consume enough of through diet, providing plenty of health benefits.
The main goal of this wellness product is to support brain and heart health and might assist the consumer in managing stress and weight loss.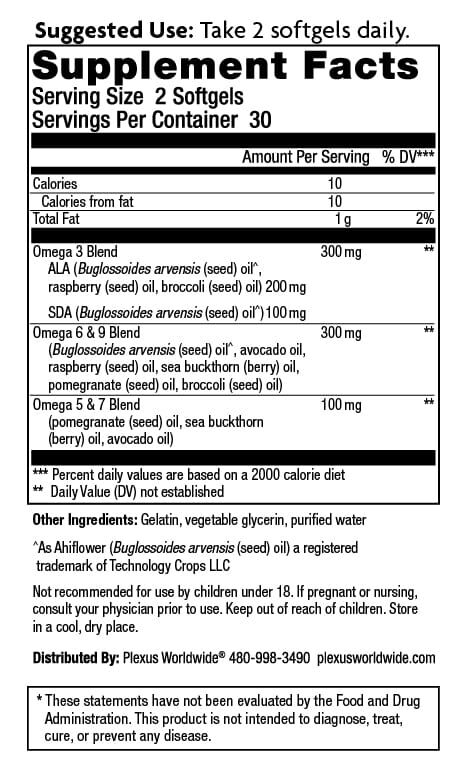 Plexus MegaX Ingredients
The dietary supplement is formulated with the following blends intended to help you reach your health goals:
Omega-3 blend (300mg)
Omega-6 and 9 blend (300mg)
Omega-5 and 7 blend (100mg).
Health Benefits of MegaX – Scientific Research
Omega-3 blend
The dietary supplement contains Ahiflower seed which is a rich source of Omega-3 acids. The Omega-3s have neuroprotective properties and possibly produce energy for the body.
They are essential for brain development, function, and health and might help the body lower triglyceride levels. Within the Omega-3 blend in this supplement are also raspberry and broccoli seed oils.
Alpha-Linolenic Acid (ALA)
The product contains Alpha-Linolenic Acid (ALA), which according to scientific research, has been studied for cardiovascular health and the prevention of cardiovascular diseases.
Alpha-Linolenic Acid is derived from plants, such as chia seeds, flaxseed, hemp seeds, kale, spinach, and walnuts.
This Omega-3 acid might decrease the risk of heart disease by helping the heart maintain normal rhythm and pumping. 1
Stearidonic Acid (SDA)
Stearidonic Acid is also known to possibly reduce the risk of cardiovascular diseases and is involved in many biological processes. Hemp, blackcurrant, and corn gromwell are the natural sources of this acid.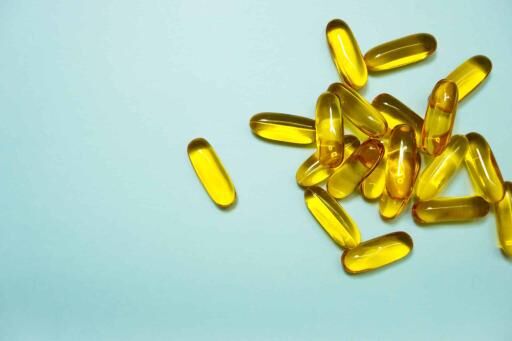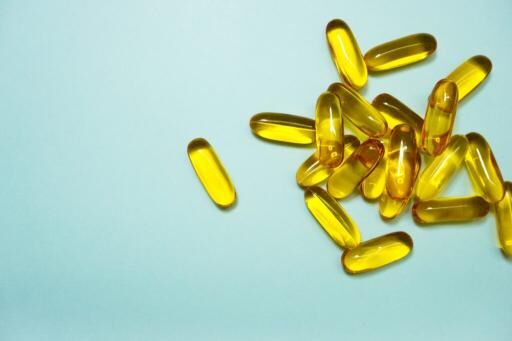 Omega-6, Omega-9 blend
The Omega-6 fatty acids are precursors to lipid molecules known as eicosanoids which have a massive role in regulating inflammation. 2
These acids help function in the body's cells and might help with digestive difficulties, diabetes, and the regulation of high blood pressure.
Omega 6-s are necessary for proper brain development and a healthy metabolism. The blend of Omega-6 and 9 might also manage cholesterol levels and reduce the body's inflammatory response.
Avocado oil
Among the ingredients of MegaX, you will also come across avocado oil. It has a good nutritional value and is a good source of Oleic acid, monounsaturated fat, and lutein, an antioxidant beneficial for the eyes. 3
Avocado oil is also a source of vitamins A and E, which are associated with skin membrane health.
Raspberry oil
The raspberry seed oil contains highly valuable bioactive compounds that are known as a source of nutrition for people. Raspberry oil is full of nutrients that possibly work towards the prevention of chronic diseases and is a natural source of vitamins and minerals.
The raspberry seed oil contains carotenoids, a plant-derived source of vitamins A and D. Such compounds are often used in wellness products as they might promote healthy and youthful skin. 4
Due to its anti-inflammatory properties, raspberry seed oil might prevent the chances of eczema and other skin conditions.
Omega-5, Omega-7 blend
The Omega-7 (palmitoleic acid) in MegaX might be beneficial for your hair growth, nails, and healthy skin and possibly help regulate blood sugar.
The Omega-5 (punicic acid) has strong antioxidant properties and might support the digestive tract. These fatty acids might also be very helpful in the weight management process.
Sea buckthorn
Sea buckthorn oil is a rich source of various vitamins, minerals, fatty acids, and antioxidants. 5 The oil contains antioxidants that might help protect your body from aging and heart diseases. 6
According to research, sea buckthorn oil might help remove excess oil from hair and moisturize and improve the skin's elasticity.
Pomegranate oil
Pomegranate oil might have many important benefits, including protecting the heart, improving the immune system, and lowering blood pressure levels.
The oil contains a significant level of vitamin C and a combination of phytochemicals, monounsaturated fatty acids, and polyunsaturated fatty acids found in pomegranate seed oil that are possibly beneficial for overall health.
They might help lower bad cholesterol levels and reduce the chances of cardiac diseases. The pomegranate might also help in the weight loss process and reduce inflammation.
Moreover, the anti-inflammatory properties might reduce swelling and eliminate pain associated with arthritis, joint disorders, and headaches. 7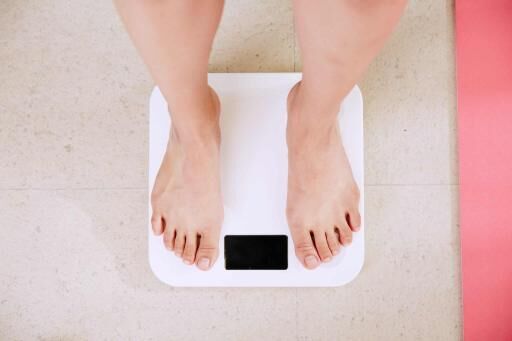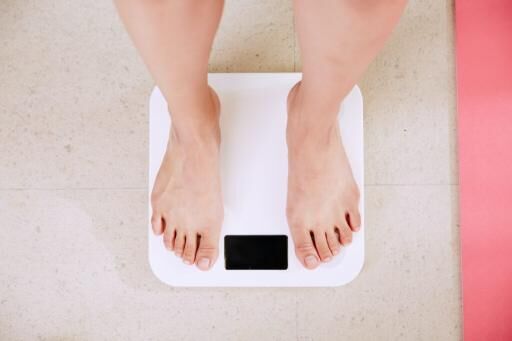 Plexus MegaX vs. Other Omega 3-5-6-7-9 Supplements
Plant-based vs. fish-based
Plexus MegaX differentiates from other Omega supplements as it uses a solely plant-based formula that delivers the benefits of fish oil.
On the other hand, fish-based supplements contain Omega 3s that are obtained from small fish eaten by ones that are higher in the food chain. Such fish are high in Omega 3s, but they are also high in pollutants which can affect the health of the user.
Flavor (aftertaste)
In comparison with other Omega supplements, Plexus MegaX doesn't have an unpleasant aftertaste. A fishy aftertaste is common among fish oil supplements, which is not the case with this natural dietary supplement.
Sustainability
The manufacturer of MegaX, the widely-known brand for health and wellness products, is committed to sustainability. Hence, the supplement is made from sustainably-sourced ingredients.
Moreover, the bottles of MegaX and the company's other supplements are made from 100% recyclable HDPE, Polypropylene, and PET plastic, which is not often the case with other supplements.
Effectiveness
While the effects may vary from one user to another, generally, the product can be effective for optimal brain health. That said, an important thing to note is that EPA and DHA (long-chain Omega 3 fatty acids) provide more health benefits than ALA (Alpha-linolenic acid). Hence, when choosing a supplement, you can opt for a supplement that uses fish oil or algal oil rather than flaxseed oil.
Expense
Compared to other Omega 3-5-6-7-9 supplements, Plexus MegaX comes at a higher price. The manufacturers have three options when it comes to buying their products: to make a purchase as a retail customer, a preferred customer, and an ambassador.
Where to Buy MegaX – Price Comparison
If you'd like to buy directly from Plexus, fill out this form and a great Plexus Ambassador will get in touch.
Amazon
The wellness product is also available on Amazon. There, you can find many alternatives to this product, such as the Omega-3,6 and 9 vegan formula by Purity Products, Berlean's Omega-3 fish oil supplement, Organic Omega-3, 6, 7, 9 Gummies from Believe, and Triple Strength Omega-3 fish oil.
When to Take Plexus MegaX
The soft gel capsules might be an excellent addition to your daily health routine. However, as with other pills and supplements, you need to take them in the proper dosage to get optimal results and avoid any unpleasant effects.
The recommended dosage for this product is taking two soft gel pills every day at night before you go to sleep.
Is Plexus MegaX Safe to Use?
Given that it is a natural dietary supplement made from scientifically-backed ingredients, MegaX is considered safe to use.
Even though it doesn't contain any allergens, it is very important to read the list of ingredients and ensure that you are not allergic to any of them.
Who can use MegaX?
MegaX is a product suitable for vegetarians and vegans and for anyone seeking healthy skin, brain, and cardiovascular health.
The product is also free from GMOs and gluten, which makes it suitable for users with different dietary restrictions.
That said, the manufacturers state that this MegaX is not to be used by anyone under 18 years old.
If you are pregnant, a nursing woman, or someone who uses other medications and health supplements, you should contact a healthcare professional before using the product. This is to ensure that the ingredients don't interfere with each other and the dosage is safe for you.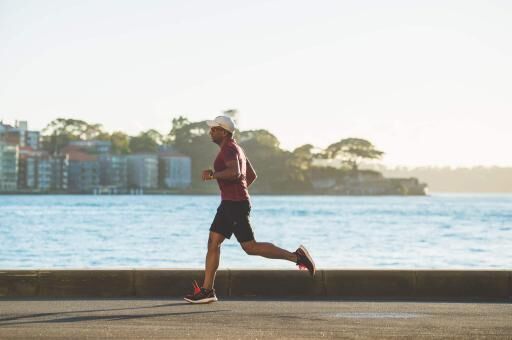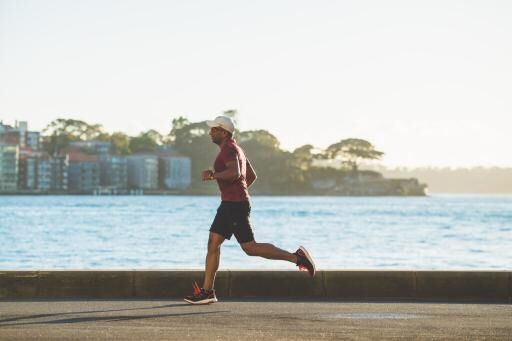 Frequently Asked Questions
What are the main advantages of using the supplement?
MegaX is an all-natural supplement intended to support brain and heart health. The product's ingredients might help manage stress and weight loss and work towards a healthy gut. The product might also benefit skin and hair and provide many other health benefits.
Are there any possible side effects from using MegaX?
There are no known side effects from using MegaX. This is because it is a natural blend crafted from plant-based ingredients.
The product is also free from contaminants and allergens, making it less likely to cause adverse effects.
How long does it take to see improvements after using MegaX?
There is no exact timeline on when you will start noticing improvements when using this product since every consumer is different.
That said, to experience the effects, it is necessary to use the supplement regularly in the recommended dosage by the manufacturers or a healthcare professional.
Conclusion
Plexus MegaX is a product that might provide plenty of health benefits for the user. It contains essential fatty acids, given the body doesn't get enough of them through food.
The product is made from scientifically-backed natural ingredients and is less likely to provide side effects when used as recommended. About the effectiveness of the product also speaks to the numerous positive customer reviews accessible online.
Remember, you should always consult with a professional before using such products due to possible side effects on your overall health!
Footnotes