"Gut health this, gut health that…"
If you've ever heard a Plexus Ambassador talk, you know that the magical benefits of gut health are central to their Plexus pitch.
They're not wrong: there are tons of benefits to having a healthy stomach. Harvard Medical School reminds us the "gut is often called the body's 'second brain.'"
But the real question is: Does Plexus actually help gut health or not?
We'll start with a brief summary of why gut health is important.
We'll then examine three different Plexus products and the scientific evidence (fully footnoted!) regarding their effect on gut health.
Why does Gut Health matter?
Benefits of Gut Health
Gut health is closely linked to overall health and well-being. The digestive system is home to trillions of microorganisms, collectively known as the gut microbiome, which plays a crucial role in maintaining a healthy gut.
A healthy gut microbiome can help to regulate the immune system, protect against infections, and aid in the digestion and absorption of nutrients. It can also have a positive impact on weight management, skin health, and even brain function.
Studies have shown that individuals with a diverse and balanced gut microbiome tend to have better metabolism and are less likely to be overweight. They also have healthier skin and a lower risk of developing certain skin conditions.
Problems of Gut Sickness
When the balance of gut bacteria is disrupted, it can lead to a variety of health issues such as inflammatory bowel disease, autoimmune disorders, and even mental health conditions like anxiety and depression.
The gut and brain also have a close connection. It's been shown that the gut microbiome can affect the brain through the production of neurotransmitters and inflammation. These can have an impact on mood, anxiety, and cognitive function.
Does Plexus Slim Work for Gut Health?
Plexus Slim is a dietary supplement product whose name makes it clear is intended to help you look slim and trim–to help you lose weight.
The scientific evidence shows that the ingredients of the Plexus Pink Drink (as Plexus Slim is known) does have some positive effects on weight loss.
That same deep dive into the scientific evidence shows the Plexus Slim ingredients have some positive effects on your gut health as well!
Plexus Slim ingredients that help your gut health
Chromium
Chromium is an essential mineral that positively affects the body's biological function and health1. It is not produced in the human body, so you must ingest it via external sources like food.
The positive effects of Chromium2 on gut health are that it might help regulate and maintain glucose homeostasis3 (the medical term for well-regulated blood sugar without extreme dips and spikes) while also preventing damage caused by heat stress.4
Chlorogenic acid
Chlorogenic acid is an ingredient similar to caffeic acid.
It can be found and extracted from green coffee beans, but it is also present in apples, blueberries, tomatoes, potatoes, and strawberries. According to studies, Chlorogenic Acids might have beneficial effects in battling and reducing the impact of metabolic endotoxemia5, which is systemic inflammation that affects the whole body, but especially the digestive tract. In medical terms, it's the condition of elevated LPS (lipopolysaccharide) levels6 (a cause and marker of inflammation).
If you have an infection or other health problem, inflammation for a short time is good, because it's your body fighting the infection. However, if you have chronic inflammation for no good reason, it can be linked with a variety of problems including leaky gut syndrome
Caffeine
Caffeine is most commonly sourced from coffee beans and is vital as a nervous system stimulant.7
The caffeine in Plexus Slim, extracted from green coffee beans, might have a preventive effect against multiple pathologies, especially a number of inflammation-based diseases. This is accomplished by improving gut health by keeping that food moving through your gastrointestinal tract nice and fast from entry to exit.8
Another study has shown that the regular consumption of caffeine from coffee increases the quantity of Bifidobacterium in the GI tract. This bacteria is considered a beneficial probiotic in aiding digestion and GI or gut health.9
Does Plexus VitalBiome Work for Gut Health?
Plexus VitalBiome is a probiotic supplement made by Plexus Worldwide. It is a blend of probiotics and enzymes that is intended to improve the health of the digestive tract and help increase the number of beneficial bacteria in the gut.
As a result, Plexus VitalBiome and other brands' probiotics help maintain a healthy gut, where more than 70% of the immune system is located.
What does science have to say about the benefits of this product's ingredients on the gut?
Let's find out!
Plexus VitalBiome ingredients that help your gut health
Lactobacillus helveticus
Lactobacillus helveticus is a bacteria that can thrive in temperatures between 105,8 and 251,6 degrees Fahrenheit. It is a microorganism used for the fermentation and production of milk and multiple cheese varieties.
As a type of lactic acid bacteria naturally found in the gut, Lactobacillus helveticus seems to provide multiple benefits. It helps prevent gut infections, improves the immune system response, promotes protection against pathogens, and boosts the reproduction of intestinal microbiota.10
Moreover, Lactobacillus helveticus might help relieve elevated blood pressure11 and prevent periodontitis12 by improving alveolar bone resorption.
Bifidobacterium lactis
The Bifidobacterium lactis is a probiotic bacteria present in large quantities in the human gut. It improves the overall immune system response.13
These probiotic bacteria apparently help battle metabolic syndrome, diabetes, high blood pressure, and obesity in humans. By successfully battling these conditions, Bifidobacterium lactis might decrease the chances of cardiovascular disease in people with metabolic syndrome.14
Another study also proves the beneficial effects of dietary supplementation with this bacteria. It seems to help increase the number of resident bifidobacteria in the gut. At the same time, it reduced the Enterobacteriaceae count (disease-producing bacteria found in the gut).15
Bifidobacterium longum
Another probiotic strain (type of probiotic bacteria), the Bifidobacterium longum, is a strain of bacteria found in the gut that is tolerant of stomach acid.16
This bacteria's benefit is its active battle against inflammatory bowel disease. If intestinal infections are present in the gut, the microbiota numbers become unbalanced, resulting in irritable bowel syndrome, chronic diarrhea, intestinal disorders, or colorectal cancer.
The mechanisms of Bifidobacterium longum seem to have preventive and protective effects on inflammatory bowel syndrome. They might increase the numbers of positive and beneficial microbiota, increasing the immune system's response.17
Lactobacillus plantarum
Another beneficial gut bacteria in Plexus VitalBiome, the Lactobacillus Plantarum, is a lactic acid bacteria with a starter probiotic function. Because of its properties, it is widely used in the food industry.18
According to scientific studies, Lactobacillus Plantarum has been proven to aid gut health, including obesity, high blood pressure, and other metabolic disorders. It also prevents inflammation in the bowel, dyslipidemia, hypercholesterolemia, and diabetes.19
Lactobacillus acidophilus
The last essential ingredient of Plexus VitalBiome I want to mention for gut health is Lactobacillus acidophilus.
Lactobacillus acidophilus is an important gut probiotic isolated from the human gastrointestinal system in 1900. Today, it is one of the most well-known and used probiotic supplements in healthy diets.20
The positive effects of Lactobacillus acidophilus are related to possibly treating diarrhea.21
Does Plexus ProBio 5 Work for Gut Health?
Plexus ProBio 5 is the last dietary supplement I want to mention and review in this article to answer the question, "Does Plexus work for gut health?"
Plexus Worldwide intends it to pair well with Plexus VitalBiome as a complementary product. The Plexus ProBio 5 dietary supplement comes in capsule form, and each capsule contains ingredients beneficial to gastrointestinal function. It is a healthy addition to any diet with various enzyme and probiotic blends paired with vitamins C and B6.
This product is primarily meant to increase the response and stabilize the natural imbalance in the intestines. It might help battle digestive disorders and constipation while expanding the number of good bacteria in the gut.
Let's see which of these product's ingredients work in favor of promoting better gut health.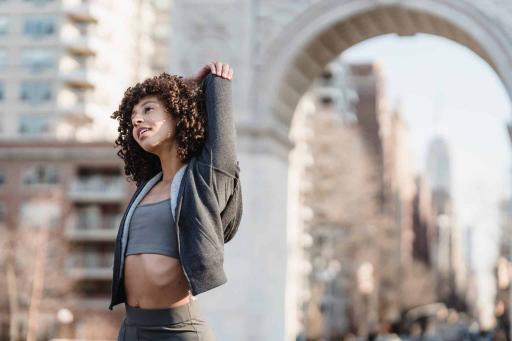 Plexus ProBio 5 ingredients that help your gut health
Plexus ProBio 5 is a blend of two categories of ingredients: enzymes and probiotics.
Enzymes
Protease
Proteases are classes of enzymes that contribute to proteolysis. This process terminates protein activity, converting old protein molecules into new ones.
These new molecules are then transformed using the proteolytic process into biologically active components needed for the healthy function of gut bacteria.22
Chitosanase
The chitosanase enzyme is mainly derived from fungi and bacteria.23 It might help ease the absorption of nutrients in the intestines by assisting in the degradation process of chitin.24
Serrapeptase
Serrapeptase, also known as Serratiopeptidase, is another proteolytic enzyme produced naturally in the digestive tract of silkworms. They use this enzyme at birth to break down their cocoons.
Serrapeptase has therapeutic properties and has shown significant analgesic and anti-inflammatory effects.25
Probiotics
The probiotic blend of ingredients within Plexus ProBio5 consists of the following components:
Bacillus coagulans
Bacillus coagulans is a spore-producing probiotic bacteria widely used for medicinal and food production purposes. It seems to positively affect several gut-related diseases, such as diarrhea, bowel irritability, constipation, and inflammation.26
Saccharomyces boulardii
A non-pathogenic yeast, Saccharomyces boulardii is an effective probiotic possibly capable of combating and preventing infectious and antibiotic-associated diarrhea.
It might work to prevent damage to and restore the intestinal barrier, enabling gut microbiota to function and exchange resources properly.27
Other probiotic elements within the blend
The other probiotic elements within the Plexus ProBio 5 blend include the following:
Lactobacillus acidophilus
Bifidobacterium longum
Lactobacillus plantarum.
I've already discussed the benefits of these probiotic elements in the previous section when I talked about the Plexus VitalBiome. You can find more relevant information about them in that part of the article.
Grape seed extract
Grapes are vitamin and fiber-rich fruits used in traditional treatment for thousands of years. Various studies have confirmed grape seed extract provides a reduction in inflammation, hypertension, and diabetes.28
Vitamin C and B6
Vitamin C, also called ascorbic acid, is not produced in the human body, so it needs to be ingested through food and other supplements.29 Vitamin C has been proven beneficial for gut microbes because it might help increase their population and reproduction rate.30
Vitamin B6 is an element involved in over 150 biochemical reactions in the human body. It might help process carbohydrates, amino acids, and lipids and has antioxidative properties.31
Because of its vital role in cellular interaction, a deficiency of Vitamin B6 in the gut leads to reduced microbiota activity. As a result, the lack of this element leads to significant negative alterations in microbial composition within the stomach.32
Conclusion
Now we know why the Plexus Ladies talk so much about gut health! The ingredients of some of their most popular products focus on improving gut health.
And the science backs it all up and highlights the importance of maintaining gut health as a key linchpin for your whole body's health. This includes not only physical, health but also the all-important mental health.
So we should all buy Plexus products to help our gut health, right?
Not so fast. While Plexus products are beneficial in various ways, they are always way overpriced compared to comparable products. You'd be much better off with Probiotic 10 and Chromium from Puritan's Pride for most of the same benefits at a fraction of the price.
If you MUST buy the expensive Plexus Products, at least do yourself the favor of getting an honest, low-pressure Plexus rep.
What do you think? Does Plexus work for gut health? And if not, then why not? Feel free to leave your opinions and experiences in the comment section below.
Sources
Footnotes